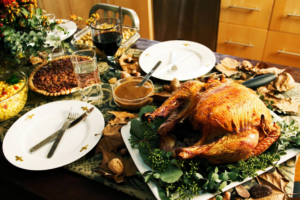 When it comes to the holidays, and particularly our family gatherings, we all have certain expectations. In our minds, we create the perfect scenario: the turkey will be done to perfection, the pies will be flaky, and everyone will be full of peace on earth and goodwill to men. Of course, things rarely turn out exactly as we had anticipated. I remember one year, my brother-in-law had planned a family outing for our extended family. Following the Christmas Eve service, we would all head out into the country for a horse-drawn sleigh ride. There would be about 20 of us, and it would be perfect. A light snow falling, Christmas carols, apple cider... It would be something right out of a Norman Rockwell painting, or so we thought. The reality was, the night was bitterly cold and there was a biting wind, and by about 10 minutes in, we had babies crying, siblings arguing and some of us begging the farmer to cut the ride short. We laugh about it now, and it turned out to be a great family memory, but not for the reasons we had anticipated.
The reality is, when it comes to the holidays, more times than not, the turkey is over-done, the gravy is lumpy, and something is said or done that produces conflict. This is often compounded by the fact that hosting a family gathering is stressful in and of itself, and often that pressure creates its own conflict.
Over the years we have discovered that there are some specific ways that we can reduce the level of conflict and tension that can easily be a part of the family dynamic this time of year.
Set realistic expectations for yourself and for your time together. The table doesn't have to look like Martha Stewart set it. A few lumps in the gravy won't' kill anyone. Remember, what's truly important is to have time together. It's not about a perfect presentation.

Communicate and delegate! Many times frustration leads to conflict because one person feels she or he is shouldering an unfair amount of the workload. All too often someone (usually mom) gets stuck in the kitchen preparing, serving, and cleaning up while the rest of the family enjoys a break. So, ask for help. Assign tasks, communicate your expectations. Most of us actually like to be involved and feel as though we have contributed in some way. Kids can help set the table and grown children can be responsible for the clean-up.

Free yourself from other's expectations or feeling as though you have to measure up in some way. Your sister-in-law may be a gourmet cook and your best meals are purchased at Costco. It's ok! It's not a competition; it is a gathering of family and friends. Those ready-to- serve meals and desserts are actually pretty tasty and, if they alleviate stress and save you time, it is well worth it.
Beyond the expectations we have for the time itself, those gatherings often bring to the surface old wounds, unresolved issues, and unhealthy dynamics that have been part of the family for years or even decades. That's another topic for another day, but it does illustrate the importance of dealing with relational conflict in a healthy way. If you find yourself in that situation, take a deep breath...and let it go. Choose to be a peacemaker. By doing so, you are giving your family and friends a gift that they will come to value- a time when they can come together, reminisce about old times, and hopefully create some new, favorite memories. And who knows, maybe even your expectations will be met!